Pacific Capital Bancorp
Pacific Capital Bancorp is the parent company of Pacific Capital Bank, N.A., a nationally chartered bank that operates 50 branches throughout California. They have needed various pieces designed for within their corporation... reference tools for supervisors and for their in-house 'university' to train employees.
For more information about Pacific Capital Bancorp, go to their website:
www.pcbancorp.com
Note: On December 1, 2012, Union Bank acquired Pacific Capital Bancorp (NASDAQ: PCBC) and its primary bank operations, Santa Barbara Bank & Trust, N.A.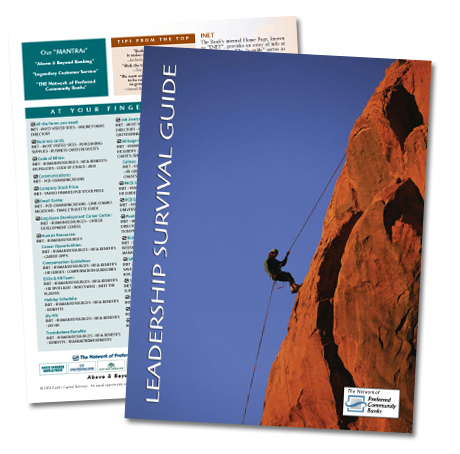 "The Survival Guide has gotten RAVE reviews! Many thanks for your hard work and creative design. "
Randy Weiss
Pacific Capital Bancorp