Books/book cover design
Here are a couple of examples of book cover design and layout that I've created. "Early Days of Santa Barbara" was a reprint of an out-of-print historical account of Santa Barbara. I was true to the original typeface used in the book while enhancing it with illustrations and photos.
The other two books shown are a book of memoirs by Betty Rosness and a novel by Henry Hofer.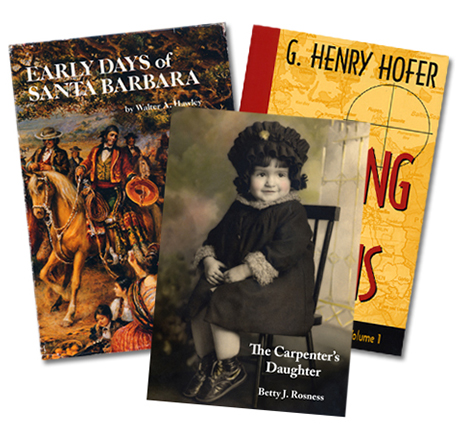 "In 2010, I self-published my life story entitled, "The Carpenter's Daughter." I found the easiest part was writing the story. It was hard to come up with the title and the art work for the cover. I had long admired the art work of my friend, Donna Greene and turned to her for help. It didn't take her long to choose a picture of me at age 2. In the photo style of the early 1920s and Donna's special presentation of the material, she was able to produce the warmth, depth and personal style I could only have hoped for! So many have said that they were drawn to the cover before knowing what was inside."
Betty J. Rosness